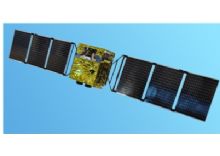 ZY-1 02C is a Chinese Earth observation satellite similar to the chinese-brazilian CBERS 2B / ZY-1 02B, but features only chinese instruments. The primary objective is to acquire high-resolution panchromatic and multispectral imagery for land resource surveys,disaster monitoring, forestry and ecological monitoring.
PMS (Panchromatic/Multispectral) camera is the next generation high-resolution imager designed and developed at BISME (Beijing Institute of Space Mechanics & Electricity). PMS is of CCD camera heritage, flown on the CBERS-1/-2/-02B satellite series. The CCD camera featured a Pan + 4 MS (Multispectral) bands with a GSD of 20 m. The PMS camera is a linear pushbroom imager. It has a panchromatic band and three MS bands, providing a GSD (Ground Sample Distance) of 5m in Pan and 10m in the MS bands from an orbit of 780 km.
High-Resolution Panchromatic Camera (HRC) provides panchromatic imagery with a GSD (Ground Sample Distance) of 2.36m in a swath of 57 km.

ZY-1 02C TECHNICAL SPECIFICATIONS:
Panchromatic Band

B1: 0.51~0.85 µm

MS (Multispectral) Bands

B2: 0.52~0.59 µm
B3: 0.63~0.69 µm
B4: 0.77~0.89 µm

GSD (Ground Sample Distance)

Pan: 5 m at nadir
MS: 10 m at nadir

Swath Width

60 km

Cross-track observation capability

±32º

Mass of the PMS camera

218 kg