Development Capabilities
Our sole business is airborne hyperspectral imaging.

One of ITRES' competitive strengths is in our vertical integration. Since 1979 we have established unmatched, comprehensive development capabilities in our field, starting from hyperspectral design through to commercial production, support, and hyperspectral data services.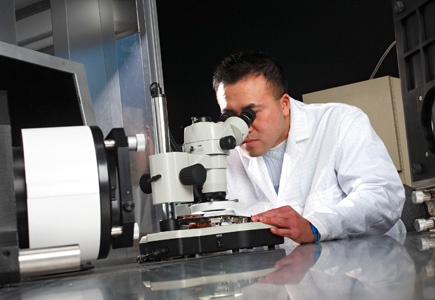 Our long-established scientific and technical team continues to push the development boundary of airborne hyperspectral imaging into new frontiers. Our corporate strengths are based in space physics, chemistry, optics, mechanical design, electrical and photogrammetric engineering.
ITRES has the facilities and capabilities to look after each of the following elements of bringing the field's leading airborne hyperspectral imagers and data to the marketplace. We offer complete:
• Custom optical design and fabrication
• Instrument design and fabrication
• Electronic design and fabrication
• Hyperspectral, global data collection services acquisition through to analysis products)
• Hyperspectral data processing (including in-field processing for fast data turn-around)
Client Design Requests
Sometimes design changes can be spurred by client requests. A modification to a recent purchase of a CASI-1500 VNIR imager is a case in point. Seeing the benefits to geometric calibration consistency accrued by embedding a precision IMU inside the sensor head housing, a sensor client requested that their imager be modified accordingly. A relatively simple modification to the sensor head was made by our mechanical design team to accommodate this need, resulting in the CASI-1500i. This version of our popular CASI imager is now available to other clients wishing to see the same benefits.