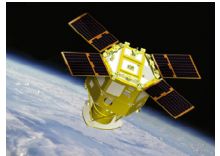 DEIMOS-2 is the first Spanish very-high resolution Earth Observation satellite, producing multispectral images with a resolution of 75 cm per pixel. It is the highest-resolution fully private satellite in Europe, and one of the very few privately-owned submetric satellites in the world.
Deimos-2 is a an earth observation satellite as a follow-on to Deimos-1 that launched in 2009. The satellite was designed and developed by Satrec Initiative, an Elecnor company, for operator Deimos to acquire high-resolution images of Earth for a variety of purposes.
The imaging payload covers a panchromatic channel (560-900nm) and four multispectral channels Blue (466-525nm), Green (532-599nm), Red (640-597nm) and Near Infrared (770-892nm). Multispectral resolution is 4 meters and the sharpened-PAN mode achieves ground resolutions of up to 0.75 meters.
Deimos-2 can operate in single strip imaging, multi-pointing imaging of close targets, single-pass stereo imaging by along-track pitch maneuvers.
PRODUCTS:
• Pan-sharpened: 75cm, true or false colour
• Panchromatic (P): 1m
• Multispectral ( MS): 4m, 4 MS bands ( B,G,R,NIR)
• Bundle (P+MS): 1m P + 4m 4 MS bands
• Stereo (ST): 1m P and/or 4m 4MS bands
• VAP Products: Radiance, Reflectance, DEIMOS Maps, spectral indices, tailored products
For more information :http://www.deimos-space.com/en/
Technical Specifications:

Parameter

Feature

Mission Life

7 years

Lauch Date

June 19, 2014

Weight

~310 kg

Dimensions

1,500 x 1,940 mm h

Power

450 W @ EOL

Li-Ion battery, capacity > 30Ah @ EOL

Ground Sampling Distance (GSD)

1 m (PAN), ~ 4 m (MS)

Swath Width

> 12 km

Spectral bands

PAN + 4 MS

Image Transmission

X-band -160 Mbit/s downlink rate

Sun Sync.

Onboard Capacity

256 Gbit

Spatial Resolution:

0.75 meter (2 ft 6 in) (Pan) 5 meter (16 ft) (MS)

Wavelengths

Pan: 560-900 nm

MS1: 466-525 nm (Blue)

MS2: 532-599 nm (Green)

MS3: 640-697 nm (Red)

MS4: 770-892 nm (NIR)