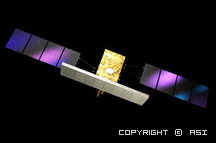 The constellation consists of 4 medium-size satellites, each one equipped with a microwave high-resolution synthetic aperture radar (SAR) operating in X-band, having ~600 km single side access ground area, orbiting in a sun-synchronous orbit at ~620km height over the Earth surface, with the capability to change attitude in order to acquire images at both right and left side of the satellite ground track (nominal acquisition is right looking mode). The Ground Segment is responsible for managing the constellation and granting ad-hoc services for collection, archiving and delivery of products to the users.
4 satellite SAR constellation
Right & left looking acquisition
Short revisit time
Rapid response
Very high resolution - from 1 metre
High geo-location accuracy
All-weather day/night global coverage
High imaging capacity
Interferometric & polarimetric capability
For more information : http://www.e-geos.it/products/cosmo.html
The System will deliver information based upon the following fundamental characteristics of the SAR Payload operational modes.
Spotlight
Stripmap
ScanSAR
HIMAGE
Ping Pong
Wide Region
Huge Region
Polarization
Single
Single
Dual
Single
Single
Swath width [kmxkm]
10X10
40X40
30X30
100X100
200X200
Accessible swath
~620 km
Geometric Resolution [m]
1
3
15
30
100