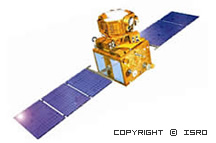 IRS-P6 has been built by Indian Space Research Organization (ISRO) as the 10th and most developed satellite. IRS P-6 not only for continuning the remote sensing services given by IRS 1-C and IRS 1-D that are giving service more than planned life times, but also in order to develop the data quality.
IRS P-6 has three sensors on-board like IRS-C and IRS-D. LISS-4 sensor has three bands in the visible and near-infrared regions with 5.8m. spatial resolution. Besides this sensor has ability to move ±26 degrees in the direction of the satellite.
LISS-3 has middle resolution sensor including VNIR region and SWIR region with 23.5m. spatial resolution. Also AWIFS sensor has the range of VNIR and SWIR regions with 56m spatial resolution.
IRS P-6 has the storage capacity of 120 Gibabits on-board in order to store the images before downlinking.
For more information: https://www.isro.gov.in/Spacecraft/irs-p6-resourcesat-1