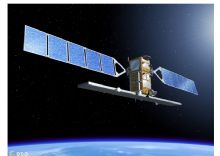 Sentinel-1 is the first of the Copernicus Programme satellite constellation conducted by the European Space Agency. This mission is composed of a constellation of two satellites, Sentinel-1A and Sentinel-1B, which share the same orbital plane. They carry a C-band synthetic-aperture radar instrument which provides a collection of data in all-weather, day or night. This instrument has a spatial resolution of down to 5 m and a swath of up to 400 km. The constellation is on a sun synchronous, near-polar (98.18°) orbit. The orbit has a 12-day repeat cycle and completes 175 orbits per cycle.
The first satellite, Sentinel-1A, launched on 3 April 2014, and Sentinel-1B was launched on 25 April 2016. Both satellites lifted off from the same location in Kourou, French Guiana, and each on a Soyuz rocket.
The SENTINEL-1 SAR instrument and short revisit time will greatly advance users' capabilities and provide data routinely and systematically for maritime and land monitoring, emergency response, climate change and security.
Each SENTINEL-1 satellite is expected to transmit Earth observation data for at least 7 years and have fuel on-board for 12 years.
Applications:
A summary of the main applications of Sentinel-1 include:
Marine monitoring

Sea-ice levels and conditions

Ocean oil spills

Ship activity

Marine winds

Land monitoring

Agriculture

Forestry

Subsidence

Emergency response

Flooding

Landslide and volcanic

Earthquakes
For more information: https://sentinel.esa.int/web/sentinel/missions/sentinel-1
SENTINEL-1 TECHNICAL SPECIFICATIONS:
Parameter

Sentinel-1

Launch date

April 03, 2014 of S1-A
April 25, 2016 of S1-B

Orbit type

SSO (Sun-synchronous Orbit) 12 day repeat cycle LTAN = 18:00 hours

Orbital altitude

693 km

Sensor complement

C-SAR (C-band Synthetic Aperture Radar)

Spacecraft mass Spacecraft size Spacecraft power

2300 kg 3.4 m x 1.3 m x 1.3 m 4.8 kW (EOL)

Downlink X-band data rate

520 Mbit/s

TT&C S-band

64 kbit/s uplink 128 kbit/s or 2 Mbit/s downlink

Science data storage

1.4 Tbit (EOL)

Required data quality

BER (Bit Error Rate): < 10-9

Operational autonomy

8 days

Prime contractor

TAS-I (Thales Alenia Space-Italy)

Baseline launcher

Soyuz (Kourou)