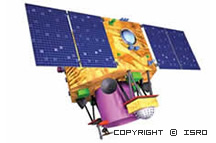 The Indian Remote Sensing Satellite IRS Cartosat-2 has been successfully launched into polar orbit on January 10, 2007. The payload was lifted by the PSLV-C7 from the Satish Dhawan Space Centre, Sriharikota.
Cartosat-2 is highly agile and can be operated in different imaging modes. E.g. in spot mode, imaging in North-South direction on either side of the track, in paint-brush mode, employing roll and pitch tilt to increase the total swath, and in multi-view mode, imaging one strip three times with different look angles.
Cartosat-2 will be an advanced remote sensing satellite with a single panchromatic camera capable of providing scene-specific spot imageries for cartographic applications. The camera is designed to provide imageries with better than one meter spatial resolution and a swath of 10 km. The satellite will have high agility with capability to steer along and across the track up to + 45 degrees. It will be placed in a sun-synchronous polar orbit at an altitude of 630 km. It will have a revisit period of four days. The re-visit can be improved to one day with suitable orbit manoeuvres.
Several new technologies like two mirror on axis single camera, Carbon Fabric Reinforced Plastic based electro optic structure, lightweight, large size mirrors, JPEG like data compression, advanced solid state recorder, high-torque reaction wheels and high performance star sensors are being employed in Cartosat-2.
CARTOSAT-2A: 28 April 2008
CARTOSAT-2B : July 12, 2010, The highly agile CARTOSAT-2B is steerable up to ± 26o along as well as across track to obtain stereoscopic imagery and achieve a four to five day revisit capability.
CARTOSAT-2C: 22 June 2016
CARTOSAT-2D: 15 February 2017
CARTOSAT-2E: 12 January 2018

CARTOSAT SERIES TECHNICAL SPECIFICATIONS:
CARTOSAT -2, 2A & 2B

Payloads

Panchromatic Camera

Spectral range

0.45-0.85 µm (panchromatic)

GSD (Ground Sample Distance)

0.8 m at nadir

Swath width

9.6 km (FOV = ± 0.43o)

Data quantization

10 bit

Weight

690 Kg (Mass at lift off)

Orbit

635 km, Polar Sun Synchronous

Inclination

97.94 deg

Mission life

5 years
CARTOSAT Series - Comparison Table
Parameter, Mission

TES

CartoSat-2, -2A, -2B

CartoSat-2C, -2D, -2E

CartoSat-3, -3A, -3B

Sensor name

PAN

PAN

PAN

MX

PAN

MX

HySI

Spectral range (µm)

0.5-0.85

0.5-0.85

0.45-0.90

0.43 - 0.52 µm ,

0.52 - 0.61 µm,

0.61 - 0.69 µm,

0.76 - 0.90 µm

0.45-0.90

0.45-0.86

0.4-2.5

Channels (bands)

1

1

1

4

1

4

>200

Resolution (m)

1

0.8

0.65

2

0.25

1

12

Swath width (km)

16

10

10

10

16

16

5

Data quantization (bit)

7

10

11

11

11

11

11