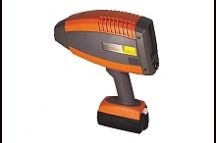 PANalytical Boulder (formerly ASD Inc.), the leading manufacturer of near-infrared (NIR) mineral analyzers, introduces the next generation of mineral analysis products forthe mining and geologic communities: the PANalytical TerraSpec® Halo. The TerraSpec Halo mineral identifier is the lightest and fastest NIR instrument available for the exploration geology market - an all-in-one handheld full range NIR device.
Never again battle with cables or cumbersome third party devices! With one pull of a trigger, this revolutionary instrument delivers mineralogy results in seconds. These near immediate results significantly speed exploration efforts, increase efficiencies, improve analysis and decision making, and ultimately save mine operators valuable time and money. The handheld TerraSpec Halo is the latest introduction to the well-known and trusted TerraSpec line of mining instrumentation from PANalytical.
Throw it in a backpack, throw it in the truck!
The rugged TerraSpec Halo produces immediate on-instrument results for the field or mine geologist using a non-destructive contact measurement. Easy to use with settings for non geologists, the TerraSpec Halo provides mineralogy information to direct field or drilling programs on the fly, or for quick confirmation sampling at the mine.
Spectral analysis of minerals has never been so simple! The TerraSpec Halo is a full-range NIR spectrometer measuring the visible and short wave infrared regions (350-2500 nm) and includes on board GPS, audio recorder and internal references to allow for easy operation and data management. It also features proprietary, state-of-the-art mineral identification software for fast data capture in the field, and easy data management back in the lab or core shack. The extensive reference library can be customized for your deposit or deposit type to further improve measurement accuracy and speed. A custom-designed holster comes with the instrument for easy use in the field.
For more information:
http://www.asdi.com/products/terraspec/terraspec-halo-mineral-identifier
TerraSpec Halo Unique applications:
Mineral/Energy Exploration

Alteration Mapping

Greenfields/Brownfields Exploration

Outcrop

Hand Samples

Drill Cuttings

Core Logging

Clay Species Analysis

Excavation Wall Confirmation