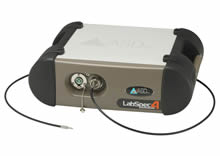 Faster data capture, superior data quality - all in a portable lab analyzer.
ASD has raised the bar, yet again, for lab equipment with the introduction of the LabSpec® 4 Standard-Res laboratory analyzer. Employing state-of-the-art near-infrared (NIR) spectroscopy, the portable spectrometer can quickly and nondestructively measure a wide range of materials with absolute precision. Improvements to the LabSpec 4 Standard-Res' spectrometer configuration have more than doubled the performance in the SWIR regions for faster, more complete material measurement.
Evaluates multiple properties simultaneously through NIR energy that penetrates several millimeters into organic substances.
Identifies both liquids and solids in real-time with no sample prep required.
Enhanced spectrometer configuration yields faster data capture with the same spectral precision, or dramatically improved data quality in the same amount of time.
Maintains all signal-to-noise characteristics at high analytic throughput rates for accurate evaluation of hundreds of samples per day.
Improved portability thanks to a standard 802.11g Wi-Fi connection and a ruggedized fiber optic cable
With a 10 nm resolution, the LabSpec 4 Standard-Res lab analyzer provides an ideal balance between spectral resolution and noise performance and can be used for measuring materials such as food and feed products, forestry products, and a variety of raw materials.
LabSpec 4 Hi-Res i
The LabSpec 4 Standard-Res lab analyzer is available with an internal broad-spectrum halogen light source (LabSpec 4 Standard-Res i model) for more versatile material analysis.