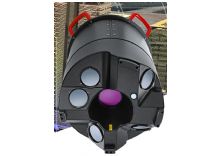 The Leica CityMapper is the world's first hybrid airborne sensor combining oblique and nadir imaging as well as a LiDAR system into one sensor. Bringing together the best of both worlds, the CityMapper is specifically designed for urban mapping. Combined with the high-performance post-processing workflow, Leica HxMap, it offers a complete urban mapping solution, Leica RealCity.
Capture more
One sensor now collects all the data you need to create any data product and allows you to create the most detailed geospatial base layer, the SmartBase. Collect and process oblique and nadir imaging as well as LiDAR data plus derivative products, from orthophotos and oblique angles to point clouds and 3D models.
Process faster
HxMap is the high-performance multisensor workflow for airborne sensors featuring the industry's fastest data throughput. Process the data captured with the CityMapper in one simple, intuitive user interface and generate the SmartBase at the push of a button. HxMap is modular, scalable, upgradable and allows you to process even the largest cities.
Work smarter
By combining the CityMapper with HxMap, RealCity offers the foundation to make smart decisions in rapidly changing urban environments. It is the fastest and most efficient way to create all geospatial information layers. The SmartBase consists of up-to-date and highly accurate 2D products and 3D models, all generated from simultaneously acquired data.

Click for Leica City Mapper Brochure (Technical Specifications)